Upper Black River Council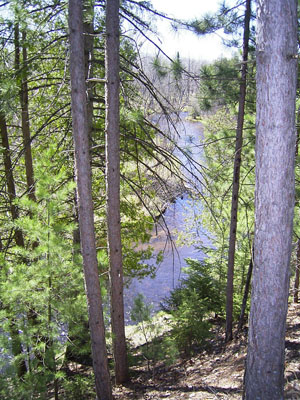 The Upper Black River has long been considered one of Michigan's finest brook trout fisheries; Ernest Hemingway fished (and wrote about) the Upper Black.  The Upper Black River system is situated in Cheboygan, Montmorency, Otsego and Presque Isle counties upstream of Black Lake and is the only river in Michigan's lower peninsula exclusively managed
for brook trout.
The Upper Black River Council (UBRC) was established in 1993, forming a unique partnership of local, state and national governmental entities, non-profit conservation and sportsmen's organizations, private landowners and interested citizens dedicated to the restoration and preservation of the Upper Black River watershed as a highly prized, multiple use natural resource.  Over the years, the UBRC's partnership with the Michigan Department of Natural Resources (MDNR) Fisheries Division has confirmed through study data that growth rates of brook trout in the Black River system are among the highest found in any study area in Michigan.
Since its formation, the UBRC and its partners have successfully completed numerous habitat improvement and educational/outreach projects.  With professional guidance provided by the MDNR and US Fish & Wildlife Service, the UBRC was able to employ a part time summer work crew consisting of college students for many years. The Summer Conservation Corps included 4-5 "river rats" who worked to improve habitat and address a variety of stream restoration issues.  Since 2017, this work is now performed by a professional contractor, allowing for a longer work season.
The UBRC's partners also engage in various road/stream crossing projects, dam removal, erosion site remediation, data collection and educational outreach programs to further the UBRC's mission.  In April of 2011, the UBRC officially received designation as a 501(c)3 non-profit conservation organization.